About Us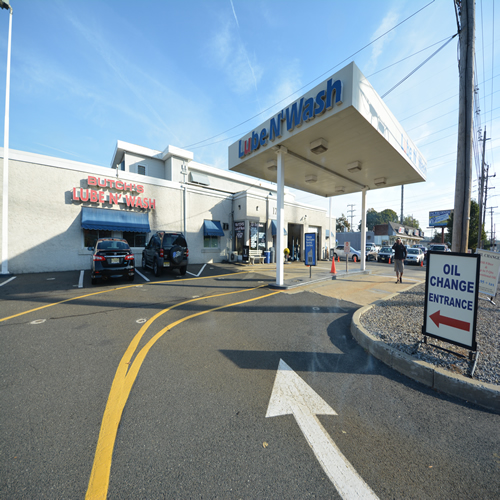 Being a proud, family-owned business of over 50 years, we strive for customer satisfaction and the absolute best care for your vehicle. Here at Butch's Lube N' Wash, we use only the finest equipment and materials the industry has to offer. These include earth-friendly chemicals from Zep Vehicle Care, and also closed-cell foam Neoglide material, which virtually eliminates the possibility of scratches and swirl marks. Unlike other car washes, we offer affordable, no-nonsense packages as well as an a-la-carte menu that allows you to tailor our car wash services to meet both your needs and, more importantly, your budget. Furthermore, Butch's is unique in that we use clean-filtered, softened spring-fed water that is NEVER reused or recycled.
Ernest "Ernie" Beattie purchased Butch's Car Wash in 1970 from Clyde Butcher, who had built the original facility on Newman Springs Road in 1957. The business at the time offered car washing, simonizing, a gas station, and a mechanic shop. Ernie enhanced the car wash by implementing the newest car wash equipment available at the time and quickly became well-known throughout the community. Ernie's son-in-law, Bill Siebert, came into the business in 1978 as a manager and became an owner in 1982. After Ernie's untimely passing in 1984, his daughter, Leigh, and Bill took on full ownership of the business. The car wash continued to grow and Bill continued to implement the newest equipment, advancing Butch's to become the finest car care facility in the Two River area.
In 1995, Bill turned the mechanic shop into a full-service oil change facility. The "Lube" quickly gained popularity by offering excellent vehicle care as well as combining services with the car wash. In 2001, Bill's oldest son Chuck entered the business after graduating from Gettysburg College. In 2006, Chuck revitalized the detailing end of the business to offer more comprehensive automotive cleaning and minor repair services. In 2007, Bill's son Brock entered the business after graduating from Monmouth University. Brock focused on providing more oil options and services to the newest vehicles on the market. In addition to the Siebert family, Butch's success is reliant upon the long time service of a few essential, integral employees. These include Jimmy Coulson (ret.), Brett Heggen, Ryan Chadwick, Marlene Itri, and Douglas "Woody" Apy. For 59 years, Butch's has continued to implement the latest and best in car care equipment and products, while proudly providing a high level of customer-oriented service in the Red Bank area.